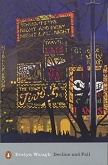 Opening Lines:
Mr Sniggs, the Junior Dean, and Mr Postlethwaite, the Domestic Bursar, sat alone in Mr Sniggs' room overlooking the garden quad at Scone College. From the rooms of Sir Alastair Digby-Vane-Trumpington, two staircases away, came a confused roaring and breaking of glass. They alone of the senior members of Scone were at home that evening, for it was the night of the annual dinner of the Bollinger Club. The others were all scattered over Boar's Hill and North Oxford at gay, contentious little parties, or at other senior common-rooms, or at the meetings of learned societies, for the annual Bollinger dinner is a difficult time for those in authority.
Where are we?
Scone College, Oxford, the mid-1920s.
In brief...
After destroying every symbol of art, learning and individuality they can find the members of the Bollinger Club pour out into the quad. Here they encounter Paul Pennyfeather, a bland undergraduate looking forward to spending an hour or so before bedtime with his pipe and The Forsyte Saga. Unfortunately the tie Paul is wearing is almost identical to that of the Bollinger Club and as a result they set upon him and remove his trousers.
Subsequently sent down for indecent exposure, Paul finds work as a teacher at Llanabba Castle, a boys' school in Wales, where his colleagues include the ineffectual Mr Prendergast and Captain Grimes, a red-haired paedarast with a wooden leg. The chain of events which his arrival sets in motion will eventually lead him towards a lavish society wedding, imprisonment for trafficking in the white slave trade and ultimately his death and miraculous resurrection.
Extract from Decline and Fall © Copyright 1928 by Evelyn Waugh