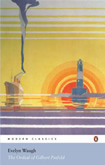 Opening Lines:
It may happen in the next hundred years that the English novelists of the present day will come to be valued as we now value the artists and craftsmen of the late eighteenth century. The originators, the exuberant men, are extinct and in their place subsists and modestly flourishes a generation notable for elegance and variety of contrivance. It may well happen that there are lean years ahead in which our posterity will look back hungrily to this period, when there was so much will and so much ability to please.
Among these novelists Mr Gilbert Pinfold stood quite high.
In brief...
Novelist Gilbert Pinfold is en route to Ceylon via cruise ship. Trapped in a cabin with thin walls, for twenty-four hours a day he is bombarded by the mocking disembodied voices of his fellow passengers. Only gradually does he realise that his persecutors are really phantoms of his imagination and that he is in the throes of a drug-induced mental breakdown.
Extract from The Ordeal of Gilbert Pinfold © Copyright 1955 by Evelyn Waugh