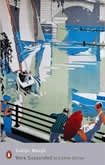 Opening Lines:
At the time of my father's death I was in Morocco, at a small French hotel outside the fortifications of Fez. I had been there for six weeks, doing little else but write, and my book, Murder at Mountrichard Castle, was within twenty thousand words of its end. In three weeks I should pack it up for the typist; perhaps sooner, for I had nearly passed that heavy middle period where less conscientious writers introduce their second corpse.
Where are we?
Morocco in the early 1930s. Here, in cost-effective isolation, the narrator John Plant has taken his home.
In brief...
John Plant returns to London to organise his dead father's estate. As the house where he grew up slowly captures his imagination, he renews contact with his politically committed writer friend Roger and his wife Lucy, and suffers the lurking presence of Atwater, the man who killed his father.
Extract from Work Suspended and Other Stories © Copyright 1943 by Evelyn Waugh